It's. FALL. I kinda can't believe it, since the summer felt really long, and now school is back and high school has been completely crazy and it's about to be pumpkin season, or at least that's what everyone says. I usually am completely a summer person, but fall flavors are tough to beat. Plus just the new normal of being a high schooler and the days getting colder and all that gorgeousness is really exciting. Some other updates in my life: I joined cross country running, and in my very limited free time I listen to sad fall songs and be angsty instead of doing anything, which leads into the fact that:
Oh. My. Gosh. I wish it wasn't true, but blogging for the next while will be so hard. It's weird, because this summer, all I did was bake and bake, it was completely my life, and now I have barely any time for it. I'm going to try as hard as I can though. I didn't end up making a summer recipe, which was kinda sad, so I wanted to get back my streak and make a fall 2022 recipe, but I didn't know the equinox was coming so soon so I looked at the calendar and realized I had a lot of work to do, and barely any time to do it. While I'm writing this, it's September 20th at 9:00pm, and I haven't even officially tested this recipe yet. Luckily I've made this kind of thing multiple times before because in every way it is the best thing in the world. I can't even explain the happiness these babies give me. Maybe the fact that I'm calling them babies gives you some ideas.
If I could reccommend any of my recipes to definitely try, it would be this one, cause it's so easy, and makes the most incredible result. I'd just say read the description I wrote in the recipe, but the quickest way I'd describe these are perfection. They go creepilly fast, and though they are better right out of the oven they work great as a school lunch treat too. If you make this recipe and tag me on Insta or comment on here I might cry from happiness. OKAY this is enough of ranting about the perfection of these muffins. How are you feeling about the season changing? Whichever switch it is for you, or if it even feels like much is different, I'd love to hear about it. And for now, who even knows what YVB will look like for the next few months, but for now I really hope you enjoy this beauty.
Have an AMAZING next season, happy equinox, and if you're reading this know that you seriously mean so much to me!!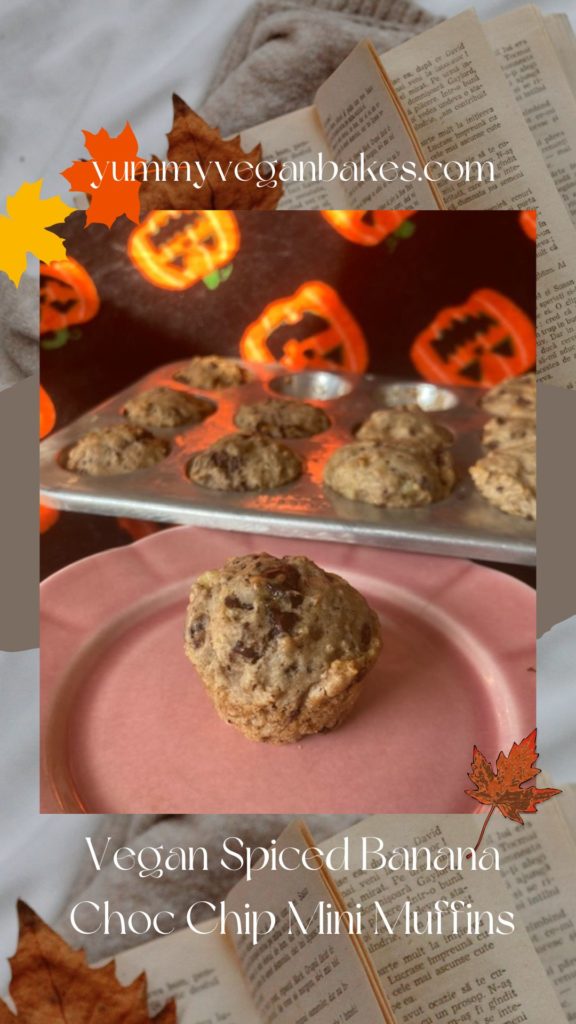 Print Recipe
Vegan Spiced Banana Chocolate Chip Mini Muffins
These muffins are tiny, fluffy, perfectly sweetened, slightly spiced, and so so comforting. They are pretty healthy, very easy to make, and impossible to stop eating, cause they are so bite sized (though still very easy to make large.) They are especially amazing fresh out of the oven, because of the pools of melty chocolate, and they are clearly my favorite things in the world, and soon yours too.
Servings:
36
mini muffins
Ingredients
1¼

cup

all-purpose flour

½

cup

whole wheat flour

or all-purpose instead

2

tsp

baking powder

½

tsp

baking soda

½

tsp

cinnamon

2

tsp

pumpkin spice

grated nutmeg, to taste

3

large bananas

¼

cup

vegetable oil

1

tsp

vanilla extract

¼

cup

sugar

⅓

cup

chocolate chips/ finely chopped chocolate

mini preferred, I chop large chocolate chips to make them smaller
Instructions
Preheat oven to 350°, Grease mini (or large) muffin tins well.

Whisk together both flours, baking powder/soda, salt, and all spices in a large bowl.

Mash bananas in a medium/small bowl or jug with a fork.

Add oil, vanilla extract, and sugar to the bananas and whisk well.

Add wet ingredients to the dry and whisk until just combined but flour spots are mostly gone. The batter will be very thick.

Stir in chocolate chips, distribute into mini muffin tins.

Bake for 10-12 minutes (20ish for regular sized muffins)

Enjoy (fall madly in love)