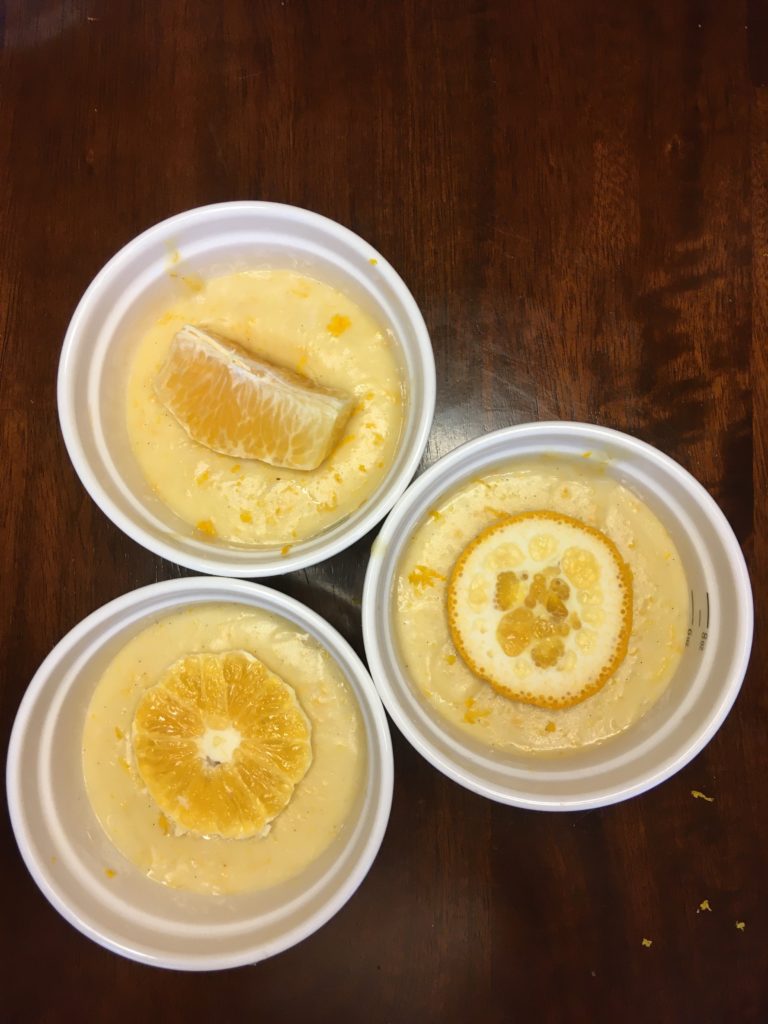 It's almost summer! Next weekend will be the official first day, but I won't have a blogpost with my summer recipe until a week later. It's kind of crazy how fast spring has gone by. This will just be the "pre-summer" recipe I guess…
Anyway, I got the idea for these flavors from a vegan baker that I follow on Instagram, who made an orange creamsicle cake. I wanted to make something with this flavor too, but I couldn't decide on what for a while. I decided on pudding because it is one of my favorite desserts to make in this world, and I just felt like orange creamsicle fits with pudding, in the idea of it and DEFINITELY in the final product.
At first, I wanted to make this pudding kind of a swirl, with some vanilla pudding and some orange, but the first time I tried this I failed horribly, there was too much liquid in the orange one, so it didn't set, it curdled strangely so the flavor was ruined, and the cornstarch made gigantic clumps everywhere.
I was really sad about this, and my first solution was that I should ditch the swirl and make the pudding all one combined flavor. This ended up being in the official recipe (this one) and it made things a lot easier. But there was still my other problem, the cornstarch clumping. I looked up why this happens, and changed some things for my second try. The main problem with what I did was that I poured my cornstarch mixture in WAY too fast. I couldn't whisk out the clumps fast enough, so it got super clumpy.
So, my main tip for you if you want to make this recipe is that you have to pour your cornstarch in extremely slowly, only a bit at a time. This way you can whisk out all the clumps before they form. My other tip is to re-mix your cornstarch and non-dairy milk mixture right before you pour it in, because if they aren't mixed properly it ruins the texture.
I hope you enjoy this recipe for Vegan Orange Creamsicle Pudding!!!
Print Recipe
Vegan Orange Creamsicle Pudding!
This is a delicious, creamy, and flavorful creamsicle inspired pudding, all vegan and dairy free, and the perfect dessert.
Ingredients
Zest of 1 orange

Juice of 1 orange

Seeds scraped from half a vanilla bean (or 1/2 teaspoon vanilla extract)

1/4

cup

cornstarch

1/4

cup

non-dairy milk

1

can

coconut milk

shaken/mixed up

a little less than 1/2

cup

sugar

1/2 cup was a little too sweet, so add a bit less

orange slices, for garnish

optional
Instructions
Zest and juice 1 orange. Combine and add vanilla, and set aside.

In a small bowl, whisk together non-dairy milk and cornstarch using a fork.

In a saucepan, mix together coconut milk and sugar and heat on medium high heat until boiling

Once boiling, reduce heat to medium, mix your cornstarch mixture one more time, and add a quarter of it into the sugar and coconut milk. Whisk this into the pudding really well, without creating clumps, and then add another quarter and repeat. Slowly add in all of the cornstarch mixture, whisking constantly.

Whisk frequently for about 5 minutes, until the mixture begins to thicken like pudding. Don't worry if it isn't super thick, it will thicken the rest of the way in the fridge.

Remove from heat and whisk in orange/vanilla mixture.

Pour into ramekins or small bowls and place in the fridge.

Leave in the fridge for at least an hour to cool and thicken.