Hi everyone!!! It has been so long since I made a blogpost! I used to post on a solid 2 week basis, but this school year has really messed it up, so I'll be posting less often 🙁 But I am really active on my Instagram, so you can check me out there! Recently, all I've been doing is school, online stuff, listening to lots of music, and baking, and it's exhausting. But, I decided to finally stop procrastinating blogposts, and write about some of the most amazing vegan baking recipes online that I've made and loved!
1) To start, PRETZELS!!!!! Soft pretzels are literally the love of my life, they are the best comfort food for every time of the year, especially these cozy seasons. A long time ago (when I was just getting into baking) I saw this recipe, and wanted to try it, and OMG. The pretzels taste exactly how they would at a theme park, and aren't very hard to make. (I made a reel of me making them too!!) The amazing recipe is from beplantwell.com, and can be found HERE!
Heres a photo of these pretzels, from the first time I made them!
2) The next recipe/ website I want to share is this vegan Victoria sponge cake, from thelittleblogofvegan.com. (Recipe here!!!) This website has soo many amazing vegan treats I want to try, but this summer I made this Victoria sponge cake and it was so incredible and beautiful, I would DEFINITELY reccommend. This makes a very small cake, so I made 2 batters, but I accidentally forgot to add sugar to the first one…. Luckilly I added sugar to the other half and it turned out delicious anyway hehe
SO PRETTY!
3) NEXT, I wanted to share a recipe for ferni, an incredible Persian rice pudding, with a hint of rose flavor and the most incredible texture in the world… The recipe uses non-vegan milk, but we switch it out with soymilk and it works amazing, and I'm sure any other non-dairy milks would also work. The recipe is here, from thecaspianchef.com! I actually wanted to make a blogpost like this back when I started this blog (December 2020!!) and when I brainstormed recipes to put on this list, ferni was at the top. My mom found this recipe a long time ago and made it for us, and it soon became our favorite dessert/pudding ever. This pudding also takes a very long time, about an hour of stirring (me and my family usually take turns) but it's more than worth it. Its a creamy, perfectly sweet, and rose flavored delacacy, and it. Is. Amazing.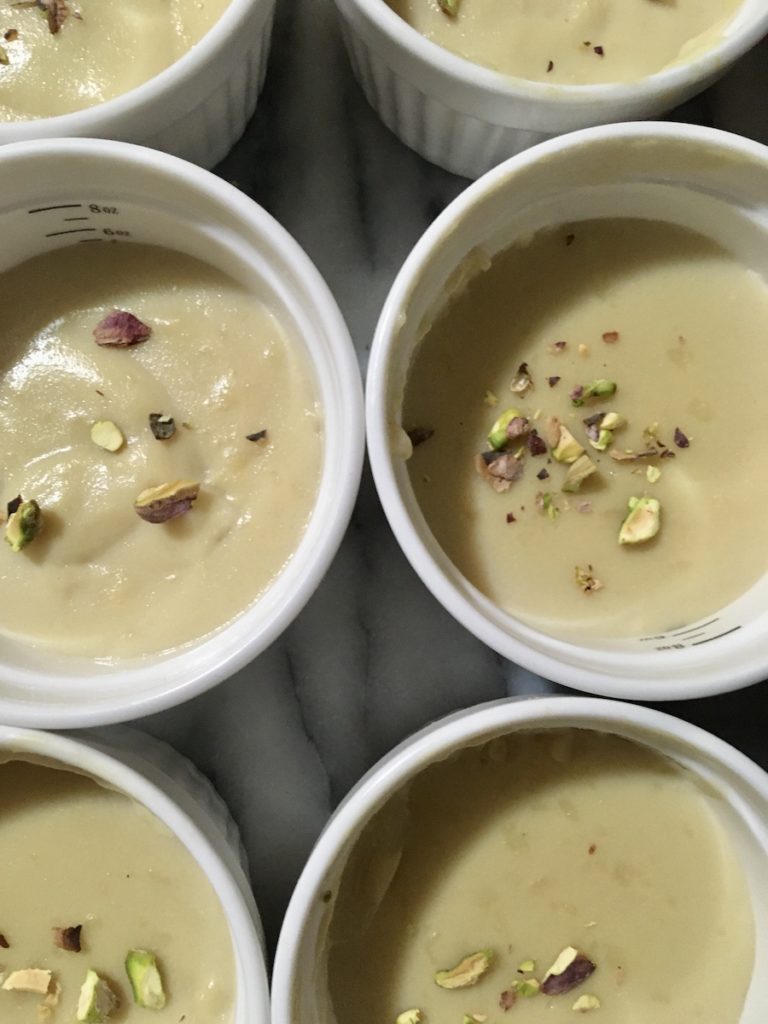 4) Another recipe that I really want to share is for PUMPKIN CINNAMON ROLLS!!!!!! I made these a few days ago, and I'm in love, and it's pumpkin season, so of course I have to share them with you! These are from the amazing thebananadiaries.com, who I recently found and am sooo in love with. The recipe's here! These cinnamon rolls were so fluffy and delicious and perfect, and I really liked making them.
Look at that swirl…….
5) And lastly, I want to share the recipe I used for the amazing vegan croissants I made this summer, and will DEFINITELY be making again, when I have 3 days to do it!! This recipe is from marystestkitchen.com, The full recipe is here, but I recommend watching this video first/while you make these, because you have to be really precise with croissant making. But OMG. These are definitely the coolest/hardest thing I've baked and succeeded, and they taste so incredible, they made me dance around when I tasted them. Perfectly crispy and buttery and probably better than the real thing, vegan croissants are incredible.
Here's a photo of my croissants!!
So yeah! I hope that this blogpost has given you some baking inspiration, I will probably make more of these in the future!! Anyways, thank you SOOO much for reading, have an amazing day!!