For my first recipe on here, I wanted to make this simple, quick and delicious chocolate cake. My mom baked it the day that she went into labor with me, because she wanted to have something sweet when I arrived. The original cake itself is vegan, which is why it is called wacky cake because a long time ago, people thought that it was wacky to not include eggs, butter or milk in a cake (there is a little vegan butter and milk in this topping.) This cake is perfect for delicious comfort food any time, or a decadent dessert to share with your family. Enjoy!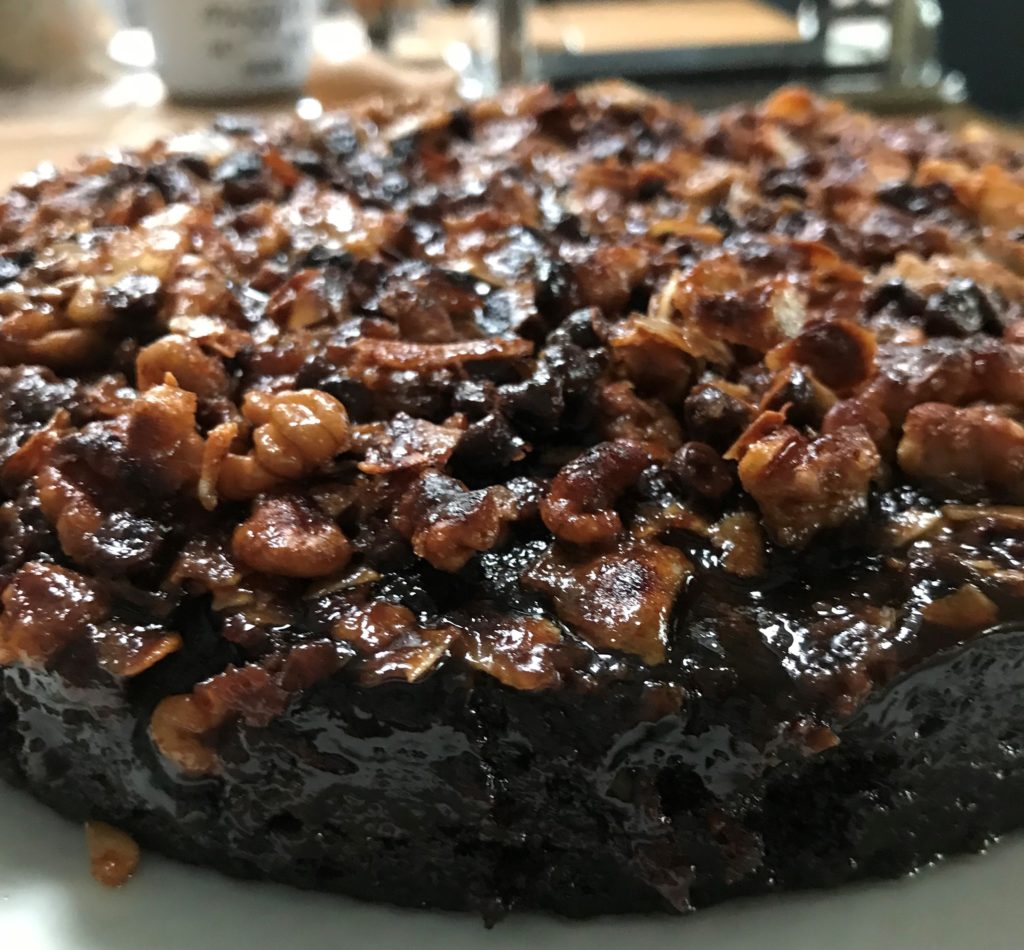 Print Recipe
Wacky cake
This is a spongy chocolate cake with a topping including brown sugar, coconut flakes, walnuts and chocolate chips.
Ingredients
For the cake
1

cup

sugar

1 ½

cup

all purpose flour

3

tbsp

cocoa powder

1

tsp

baking soda

1/2

tsp

salt

1

tsp

apple cider vinegar

1

tsp

vanilla extract

5

tbsp

vegetable oil

1

cup

water

cold or room temperature
For the (delicious) topping:
1/4

cup

non dairy butter

2/3

cup

brown sugar

1/4

cup

non dairy milk

1/2

cup

walnuts or pecans

1/2

cup

shredded coconut

1/4

cup

non dairy chocolate chips
Instructions
For the cake
Preheat oven to 350°F and grease a 9 inch round cake pan or an 8 inch square brownie pan with oil.

Sift together all purpose flour, cocoa powder, baking soda and salt into a large bowl. Add the sugar, mix, and set aside.

In a separate smaller bowl, whisk together vegetable oil, vinegar, vanilla and water.

Add the wet ingredients into the dry and mix with a spatula until there no large clumps in the batter (a few small ones are okay.)

Pour batter into your greased pan and bake for 30 minutes.
For the topping
While your cake is baking, mix together all of the topping ingredients (non dairy butter, brown sugar, non dairy milk, pecans or walnuts, shredded coconut and non dairy chocolate chips) in a medium bowl and try to refrain from eating some of it (which is way too hard)
Finishing and assembly
Take the cake out of the oven and test if it's done by inserting a toothpick or fork and making sure it comes out clean.

Take the topping and put it on top of the cake (don't let the cake cool first, just put it on.)

Turn the oven to the broiler setting and put the cake (with the topping) back inside the oven. Keep a close watch on your cake by leaving the oven cracked open (not too small, big enough that you can see the cake pretty well). Watch it for 3 or 4 minutes, or until you feel like the topping has turned a perfect brown. Don't go over 4 minutes though, because it could burn the coconut and nuts.

Take it out of the oven, and let it cool for a while before taking it out of the pan (you can doing this by flipping the pan over onto a plate or cutting board so that the cake is upside-down, and then putting another on top and flipping the cake over right side up.) Let it cool mostly or completely before serving. Enjoy your Yummy Vegan Bake!!!