HAPPY EQUINOX!!! As usual, I have a new recipe! I started the tradition of a new recipe each season exactly a year ago, and in the past year I've learned so much about recipe developing. I'm planning to make a blogpost soon where I remake the recipe I developed a year ago, which is exciting, but today I'm coming out with a recipe for the fluffiest and best citrus cake you will ever eat.
For a few tips, this cake isn't very sweet so if you want you could make a simple icing with lemon juice and powdered sugar, (1 cup sugar 2 tbsp juice!) but I left it plain and it's still absolutely incredible. Also, to line your pan I'd reccomend taking parchment paper and washing and drying it so it gets softer and fits the pan better. And you definitely don't have to use super fancy olive oil!
Olive oil cakes have been one of my obssesions for as long as I've loved baking, and I'm so happy to make a recipe for one to share with you! I think that the olive oil just gives such a rich flavor, and brings out the citrus, which there is a lot of in here. Also, this cake might be vegan, but it has such a good texture that I honestly don't think you'll notice. I highly reccommend giving this a try!
Thank you for reading, happy Equinox, and enjoy!!!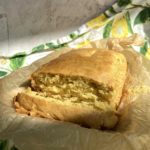 Print Recipe
Vegan Citrus Olive Oil Loaf Cake!
This moist all vegan loaf cake is made with olive oil for a richer flavor and packed with lots of citrus. It is not too sweet and is perfect for spring!!
Ingredients
2

cups

all-purpose flour

1

tsp

baking soda

½

tsp

salt

1

cup

non-dairy milk

1

tbsp

white or apple cider vinagar

1

tbsp

orange zest

(about 1 large or 2 small oranges)

1

tbsp

lemon zest

(about 1 lemon)

1

tbsp

lime zest

(about 1 lime)

1

tbsp

orange juice

(½ large orange or 1 small)

1

tbsp

lemon juice

(almost ½ lemon)

1

tbsp

lime juice

(½ lime)

½

cup

sugar

⅓

cup

olive oil
Instructions
Preheat oven to 350°F. Grease lightly and line a loaf cake pan with parchment paper (wet/crumple to fit better.)

Whisk together flour, baking soda, and salt in a large bowl.

Combine milk and vinagar in a medium bowl to curdle while you zest and juice the citrus.

Combine all the zests and juices with the milk mixture and whisk in sugar and olive oil well.

Pour wet ingredients into dry and whisk until JUST combined.

Add batter to cake pan and bake for about 45 minutes, or until a toothpick comes out clean.

Let cool (or eat warm) and enjoy!!!