So it's officially fall! Summer passed by so fast, and all of a sudden I'm back at in-person school and extremely busy, and it's become the season of falling leaves and pumpkin spice lattes, and I'm so excided for all the fall baking I can start doing!
Suprisingly, for this fall recipe I actually didn't do anything pumpkin, I decided to showcase the other popular amazing fall flavor that is apples! On this blog so far, I have made a lot of cake recipes. My family doesn't even really like cake, so when I tell them that I'm going to make some, they are never that excited, but always love what I make anyway. This cake though, they really loved. After his first bite, my brother said that it didn't even taste vegan, and I kind of agree, though I don't really know what non-vegan cake even tastes like.
There is really just something special about the flavor and coziness of this cinnamon/vanilla spice sponge cake. The apple topping brings out the flavors and tastes so incredible, and it goes great with a cup of tea and a cozy blanket, the perfect way to bring in fall.
Enjoy, and have a great equinox!!!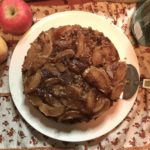 Print Recipe
Vegan Apple Cinnamon Upside-Down Cake
A fluffy and delicious cinnamon spice cake with carmelized apples on on top. The perfect cozy fall treat!
Ingredients
For the apples:
1-2

apples

depending on size

1

tsp

cinnamon

2

tbsp

brown sugar

2

tbsp

sugar

pinch of salt
For the cake:
¾

cup

non-dairy milk

½

tsp

apple cider vinegar

1½

cup

all purpose flour

¾

cup

sugar

1

tsp

baking soda

1

tsp

baking powder

1/2

tsp

salt

1

tsp

cinnamon

¼

tsp

nutmeg

¼

tsp

cloves

½

cup

vegetable oil

seeds of 1/2 a vanilla bean or 2 tsp vanilla extract

bit of lemon zest (optional, brings out flavor)
Instructions
Preheat oven to 350°F, lightly grease an 8" cake pan, especially the sides, and line the bottom of the pan with parchment paper.

Cut your apples into thin-ish slices. Mix together the white/brown sugar, cinnamon, and salt in a small bowl with a fork. Toss the apples and cinnamon sugar mixture together, and get them all well coated.

Arrange the coated apples evenly on the bottom of the pan, without that many spaces, and sprinkle the rest of the cinnamon sugar on top. Set aside.

Add your apple cider vinegar to a small bowl with non-dairy milk, mix a tiny bit, and set aside to curdle.

While the mixture is curdling, whisk together flour, sugar, baking soda, baking powder, salt, cinnamon, nutmeg, and cloves.

Pour in curdled milk (should be thick and lumpy), oil, and lemon zest, and whisk until it forms a batter, then switch to a spatula and stir until only a few small lumps remain.

Pour into prepared cake pan on top of apples. (Don't worry if it doesn't fill that high because it will rise a lot.) Bake for 40 minutes or until a toothpick comes out clean with a few small crumbs.

Let cool for 10+ minutes, flip out of pan, peel off parchment paper (if any apples stick scrape them back onto cake). Serve and enjoy!!!