We recently went on a trip to the Leavenworth area, and while we were in Wenatchee, we found the most adorable little paper and stationary shop which all of us ended up buying something at. I fell in love with one of the recipe boxes that was there and had to buy it. It is amazing, I love having all of my recipes in a little box, and I'm excited to collect even more recipes as I get older.
Isn't it adorable? Anyways, my mom decided that we should combine this beauty and her own recipe box, which had tons of recipes it it, but it was just very old and didn't look as good on the outside as this one does. I sorted all of her recipes and found some really interesting and yummy looking baked goods, but one that especially appealed to me was a recipe called "BME's/Best Muffins Ever." I made them, and they were amazing.
I decided to post the recipe on here so that anyone who's craving some muffins can have them with simple ingredients and some freedom when it comes to fruits you can add. I've made them with fresh and frozen blueberries, and loved both.
These muffins have a streusel topping which you have to bake with the muffins, and according to my mom, this is what makes these muffins the BME (best muffins ever!!!!!!).
Here is a list of fruits you can use, fresh or frozen.
Blueberries
Raspberries
Strawberries
Plums
Peaches
Apricots
Mangos
Anything else you can think of!
Enjoy!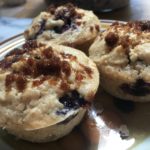 Print Recipe
Vegan Muffins!
Simple, delicious vegan muffin recipe with a brown sugar streusel topping. The muffin is best with fruits or berries in it, and you can choose whatever you'd like to add. Perfect for picnics with a glass of lemonade!
Ingredients
For the muffins
1

cup

non-dairy milk

1

tsp

apple cider vinegar

½

cup

vegetable oil

1

tsp

vanilla extract

1½

cup

white flour

½

cup

wheat flour

½

cup

sugar

1

tbsp

baking powder

½

tsp

salt

1

cup

fresh or frozen blueberries, raspberries, plums, or any other fruits or berries that you like!
For the streusel topping
1

tbsp

melted coconut oil

3

tbsp

brown sugar

a dash of salt
Instructions
Preheat oven to 375°F and grease a muffin pan or line with cupcake liners.

Whisk the non-dairy milk, apple cider vinegar, vegetable oil, and vanilla extract in a large bowl until well combined

In a separate medium bowl mix together white flour, wheat flour, sugar, baking powder, and salt.

Pour the dry ingredients into the wet and mix with a spatula until well combined, making sure that there isn't any large clumps of flour.

Fold in your fruits or berries carefully, keeping in mind that if you use frozen blueberries or raspberries your batter might turn blue or pink, so stir them in slowly to prevent this.

Pour the batter into your greased muffin tins, and let this sit while you make the streusel topping.

Make the topping by melting your coconut oil, and adding it to a small bowl with your brown sugar and salt. Spoon about a ½ teaspoon of the streusel topping onto the center of each of your muffins.

Bake the muffins for 22 minutes or until a toothpick comes out clean. Let cool, and enjoy!!